Last week, Ford dropped the dealer playbook for 2023. Find information on the ordering timeline and conversion process here. Today, Ford released the MY23 order guide for Bronco (full PDF in the forums). We break down what's new and what is going away.
2023 Paint Color Options
The colors available for 2023 are mostly the same. We lose Cyber Orange, a favorite for many, and on Everglades, Desert Sand disappears, making that a one model year offering. Take a look at the chart to make sure your color is still offered: Bronco Raptor drops from 10 colors to 8: Cyber Orange is gone, of course, as well as Velocity Blue and Eruption Green.
Azure Gray Metallic Tri-Coat joins the lineup for everything but Heritage Limited, a trim that comes with its own set of exclusive colors including (but only Robin's Egg Blue for '23; Yellowstone joins in '24).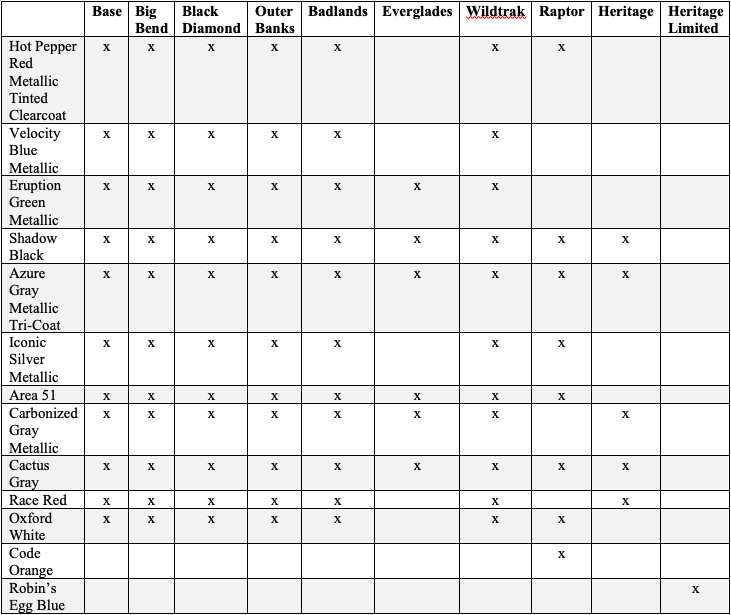 Heritage and Heritage Limited Upgrades
Those interested in these vehicles can now look over the standard spec. Heritage stays put with Mid and Sasquatch packages, but Heritage Limited buyers can decide if they want to upgrade to the higher equipment group packages of High or Lux.
Tops
Mod Tops
The Modular Oxford White-Painted Hard Top joins in 2023, only for Heritage and Heritage Limited. There was talk of the mod top in Shadow Black coming in 2023, but Ford appears to be holding back on it for now
These modular tops have the "gunner's hatch" porthole on the 2-door, which gets its own storage bag you'll want to add to your order.
Dual Tops (Mod + soft OR MIC + soft)
The Dual Tops option is back for 2023. Heritage and Heritage Limited are eligible for the Black Soft Top and the Modular Oxford White-Painted Hard Top combo.
Other trims get the Black Soft Top or Black Soft Top plus the Carbonized Gray Molded-in-Color hard top.
Late Availability
You're looking at late availability for the Dual Tops. MIC Hard Top + soft top (4-door only) is not delayed.
And because the Heritage and Heritage Limited are late availability, so are the Dual Tops and, technically, the Modular Oxford White-Painted Hard Top. We'll see if Ford announces the Shadow Black-Painted Hard Top as late availability.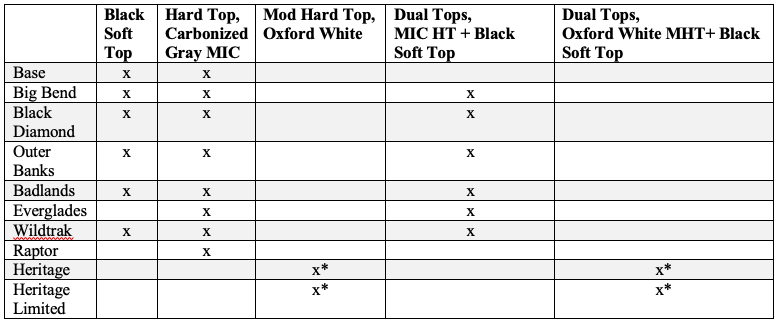 * = late availability
HOSS 3.0 Standard and More
Other than these changes and additions, 2023 is looking pretty close to 2022. The base sound system gains one additional speaker. Signature headlights and navigation continue to remain in flex for some trims based on chip constraints. HOSS 3.0 system is standard on Wildtrak; read why we're excited for that. Stay tuned for more for 2023, including information on order conversions, price lists, and Ford FAQs.