When Ford announced the all-new Bronco, the design ties to the past generations were immediately evident. The exterior gives nods to earlier models, and even the interior dash panel retains about as much of the pared-down, clean look as possible for vehicle with a ton of technology. Still, when you get behind the wheel of a 2021 Bronco, you'll know you're in one of the 21st century models. Here's what the instrument cluster looks like and the information it will give you.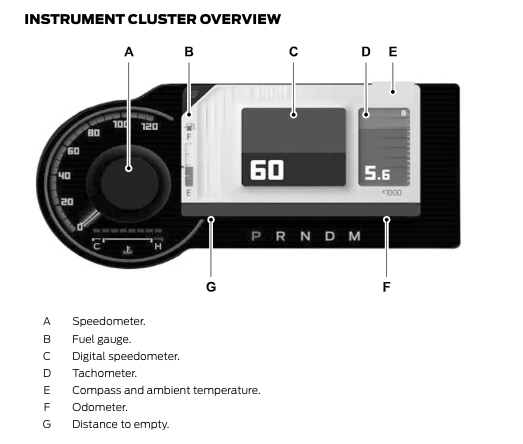 Speedometer (A) and (C)
Like most vehicles these days, you'll get both an analog and a digital readout of how fast you're traveling.
Tachometer (D)
Keep an eye on your RPMs on the right side of your cluster with a digital display.
Compass and Ambient Temperature (E)
Above your tach, you'll find a compass and the outside temp displayed.
Odometer (F)
At the bottom of this information bar, above your gear indicators and to the right, you can see mileage.
Fuel Gauge (B) and Distance to Empty (G)
The fuel gauge is located in prime positioning between your speedometers. An arrow next to the pump icon lets drivers know which side the gas door is on –– something owners will be using often and won't forget, but if you're generous in letting others try out your Bronco, it's a nice addition for them. When you're beginning to become low on fuel, you'll get a reminder display and chime at 75, 50, 25, 12, and 0 miles to empty. The manual doesn't say if your Bronco will be automatically governed to reduce consumption at 0 miles, but some manufacturers will do this to help you get to a station and give you 35-80 more miles on lowered power. We don't recommend you try.
Engine Coolant Temperature Gauge
Find this below your analog speedometer. This is a helpful gauge, in that you at least are given a range, even if it's displayed in an estimation format. But the increments are still much better than the manufacturers/models that just give you one light for overheating and no other readout. You also will get a transmission fluid temperature gauge on your cluster, as well as a Turbo Boost gauge for the 2.3L EcoBoost, indicating the amount of manifold air pressure. Both of these gauges are configurable.
Voltmeter and Oil Pressure
A gauge not present –– one many running accessories may like to look at –– is a voltmeter for the alternator. You will get a warning light, however, just no amp readout. The same goes for the oil pressure: no gauge, but you will get a light. However, I've added gauges to my vehicle, and others can do the same if having them is important to you.
Warning Lights
If you're getting into a danger zone or having a malfunction, the following lights are available: • Anti-lock brake system • Battery • Brake system warning lamp • Door ajar • Electric park brake • Engine coolant temperature • Fasten seatbelt • Hood ajar • Low beam warning • Low fuel level • Low tire pressure • Low washer fluid level • Malfunction indicator lamp • Oil pressure • Powertrain malfunction • Tailgate ajar
Indicator Lights
There's no shortage of technology in the Bronco, and the following indicators will let you know what's turned on at any given time. • Adaptive cruise control • Automatic headlamp high beam • Auto-Start-Stop • Blind spot monitor • Cruise control • Differential lock • G.O.A.T drive modes • Four-wheel drive • Front airbag • Front fog lamp • Headlamp high beam • Hill descent • Lane keeping system • One Pedal Drive • Parking lamps • Pre-collision assist • Stability control and traction control • Stabilizer Bar Disconnect • Trail Control • Trail Turn Assist • Tow haul • Turn signal lamps For a listing of symbol images and names, visit
Icons for an Icon: The 2021 Ford Bronco Symbol Glossary
.
Maneuvering the Instrument Cluster Display Controls
It's easy to tab through the displayed information to get to what you want to see. Listed on the menu are: • MyView • Trip/Fuel • Off-Road • Navigation • Phone • Audio • Settings Use the buttons to toggle the options until you get to your desired choice. A checkmark status indicator next to the menu item indicates that the feature is on.