On Monday, the updated 23MY Bronco restrictions summary for key commodities began making rounds, along with scheduling information. The usual constraints are there –– hard tops, Sasquatch package, Lux package, and other in-demand items we are used to seeing.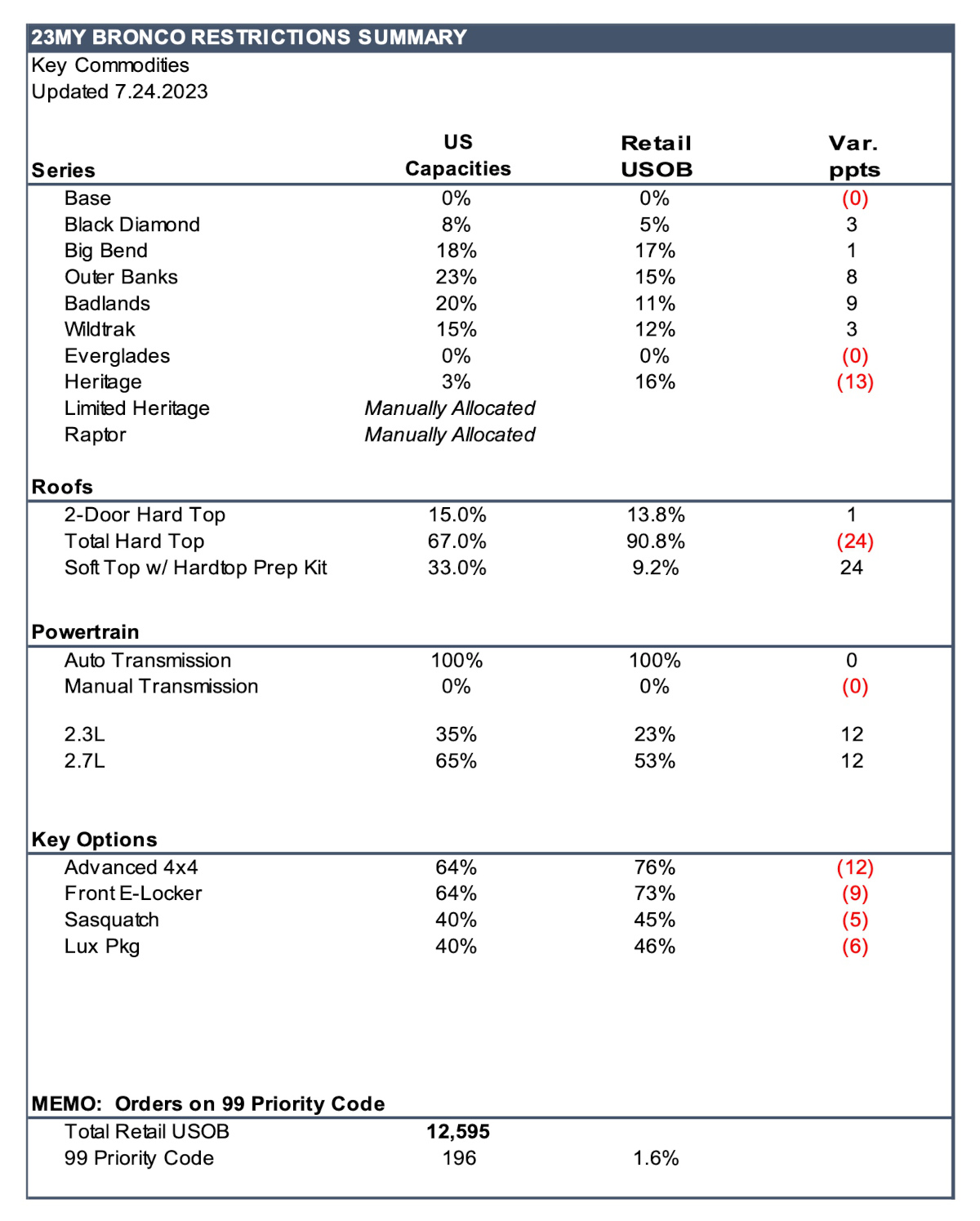 Unexpected Advice
In an interesting turn, however, the best configurations available for Bronco right now are a 2-door Badlands or 2-door Wildtrak. For those with their heart set on five points of entry, go with a 4-door soft top Badlands or Wildtrak.

Historically, Ford has steered people away from both the 2-door model (due to the hard top) and Badlands/Wildtrak trims if they were looking to get into a Bronco quickly. Configs like a four-door soft top Big Bend or Black Diamond were recommended instead. And even earlier this year, Ford offered order holders $2,500 to switch from Wildtrak into a lower trim.
Tim Bartz, Internet Manager at Long McArthur Ford in Salina, Kansas, details these scheduling notes in his latest livestream. He points out that this news contradicts Ford's earlier production capacity numbers shared for the 2-door: 15%. If that figure had held, their dealership would have only been able to have three 2-doors scheduled in 2023. Since March, they've seen eight 2-doors scheduled, which is why Bartz will put an order in for whatever a customer wants and recommend adjustments as necessary.
Delay on Heritage
Unfortunately, the current 2-door benefit does not carry over to Heritage editions. Ford has relayed that 2-door Heritages are experiencing delayed scheduling and production.
For more Bronco and Sport news, tune in to Bronco Nation LIVE, every other Wednesday at 8 ET. Talk about topics you're interested in with the community and BN team. We'll see you in the chat!