When Ford designed the rear seat of the all-new Broncos, they elevated the bench to give backseat occupants a front-row view of the action.
The stadium-height seating isn't the only option to make rear seat passengers more comfortable. Riders can also recline the seats several degrees.
Ford has heard feedback from some customers that the rear seat is too upright, not knowing it can recline.
How to recline the seats:
Locate the dump handle on the top of the seat near the headrest (no separate recline handle).
Pull the tab to recline the seat 4 degrees.
Why This Dual-Purpose Handle Design?
People typically look for a recline handle on the side of a seat, so it's understandable that some, not finding one, haven't tilted the seat back yet. The choice to dual-purpose the dump handle as both the fold-down and recline lever isn't as intuitive to customers as adding a second lever. However, it did prevent delays by avoiding a tear-up of the seat design due to stowing the doors, a later-stage addition to the project.
For all four doors to fit in the Bronco's cargo area, the rear seat needs to be able to move from a 23-degree torso angle to a 19-degree torso angle. For efficiency, the dump handle was used as the seat recline lever to return it to a relaxed position when the doors aren't in the back.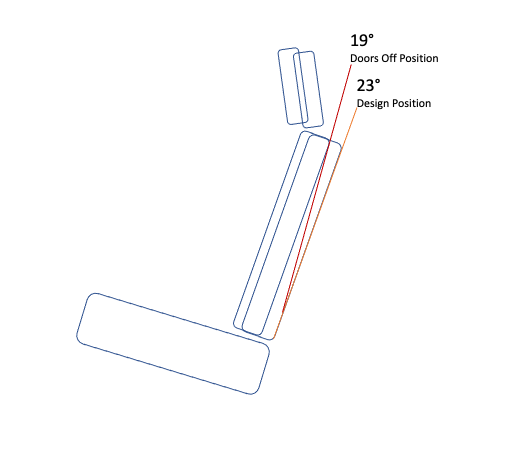 To counteract confusion, Ford placed a color-contrasting label as a visual indication that the seat can be adjusted. Additionally, once they were aware customers didn't know about this feature, build instructions were added at MAP to push the seat back to the relaxed position before the Bronco leaves the plant.