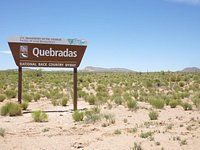 Quebradas Scenic Byway trail ride (East of Socorro NM)
By Darrel (What doesn't kill me better run!, 4962)
START DATE Saturday Feb 18, 2023 at 9:00 AM GMT-05:00
END DATE Saturday Feb 18, 2023 at 3:00 PM GMT-05:00
Trail ride on a dirt Scenic ByWay road in Central New Mexico.
This is open to all Broncos - all generations and all sizes (including Sports and II's). And, if you have "friends" who do not have Bronco's but would like to go, they are welcome as well.
I'm reading that this trail can require ground clearance and 4wd if it is wet.
Please bring water, some snacks, recovery gear (if you have some). Communication will be discussed before we head out.
Meet at exit 156 on S I25 at Lemitar - Road Runner Travel Center. We will leave there at 9:30. The ByWay starts about 10 miles from here and is 25 miles long. It comes out at San Antonio NM where there is the original Owl Cafe and Buckthorn Tavern where we can stop and have lunch (may be a later lunch) - both have green chile cheeseburgers.
For those that cannot make the trail ride, you could come to San Antonio and have some lunch with us. But, I cannot give you an exact time that we will be there - hoping anywhere from noon - 2pm.
The event gallery is empty.
Attendees
Darrel (What doesn't kill me better run!)
Member number: 4962
Published events: 4
Member since Sep 14, 2021
Darrel
Hi y'all, Lauri here and I am the proud owner of a MY21 Badlands, SAS, 2.7 auto, 4 door, soft top, Cactus Gray, no reservation, ordered 9/11/21, Took delivery 1/8/22!
Adam1966
Darrel
You must log in or register to post here.