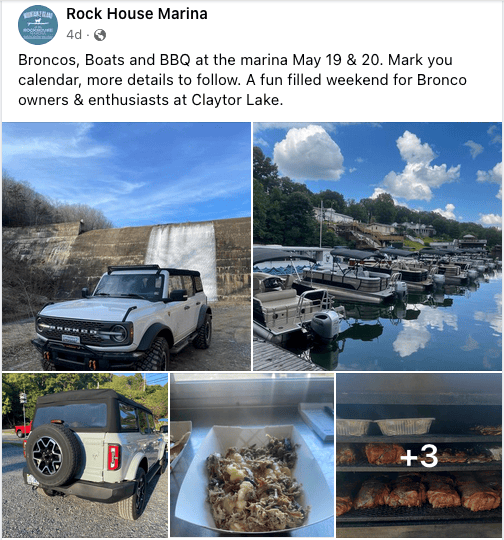 Broncos, Boats and BBQ
START DATE Saturday May 20, 2023 at 9:00 AM GMT-04:00
END DATE Saturday May 20, 2023 at 7:00 PM GMT-04:00
We are looking to expand our meeting options for Bronco owners! https://www.facebook.com/rockhousemarina Instagram @hokiebronco
PLEASE RSVP so that we can plan for the right amount of BBQ.
Join us for our Broncos, Boats, and BBQ event on May 20th.
Tickets are available in advance on our website:
https://mountain2island.checkfront.com/reserve/
RSVP for $20, or you can purchase them on the day of for $30.
Events for the day will include:
9:00-11:30- Show & Shine
11:30-12:30 - Awards and a BBQ Lunch
1-3:30 - Your choice of 2 rides: Ride 1 goes to Gatewood Park and Dam
Ride 2 goes to the Salty Stash Distillery and Iron Heart Winery.
4-6 - Back to the Marina for live music from
Mike Pauer
Price: $20 RSVP 30 day of
Available starting: Apr 01, 2023
The event gallery is empty.
Attendees
white lightning (Rank V)
Member number: 3085
Published events: 12
Member since Jun 18, 2021
You must log in or register to post here.