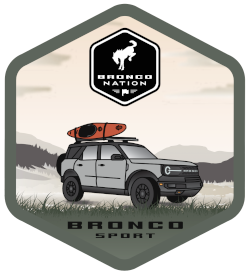 Bronco Nation Sport Member Drive – New Hampshire
60 Loon Mountain Rd, Lincoln, NH 03251, USA
By Laura (Administrator, 1976)
START DATE Saturday Sep 30, 2023 at 8:00 AM GMT-04:00
END DATE Saturday Sep 30, 2023 at 5:00 PM GMT-04:00
Sport owners, come do an Off-Roadeo guided trail drive in the White Mountains area!
Bronco Nation is hosting another Sports-only, members-only scenic drive, led by Bronco Off-Roadeo guides. Come out for a day of fun! This adventure will be a mix of rural pavement drives with a bit of off-roading thrown in.
We'll be stopping at scenic National Forest overlooks of the beautiful Kancamagus highway with an off-roading segment on the incredibly historic 220 year old Sandwich Notch Road, plus more!
Express your interest:
RSVP
The event gallery is empty.
Attendees
Laura (Administrator)
Member number: 1976
Published events: 682
Member since Mar 18, 2021
2021 Oxford White 2-door non-Sas Mid package 2.7L/10-speed Badlands with MIC top
Keeping the Jeeps: stock '89 XJ and 3.5" lifted '00 XJ on 31s
TK1215
Attachments
Speed is The Freedom of The Soul !!!
You must log in or register to post here.